The 2017 IEEE International Symposium on Performance Analysis of Systems and Software is sponsored by the IEEE Computer Society's Technical Committee on Internet, Technical Committee on Computer Architecture, and Technical Committee on Microprogramming and Microarchitecture.
ISPASS 2017 took place in Santa Rosa, California. Santa Rosa is in Sonoma wine country, an hour north of San Francisco.
---
News
Best Paper Award: "MaxSim: A Simulation Platform for Managed Applications", Andrey Rodchenko, Christos Kotselidis, Andy Nisbet, Antoniu Pop and Mikel Lujan (University of Manchester).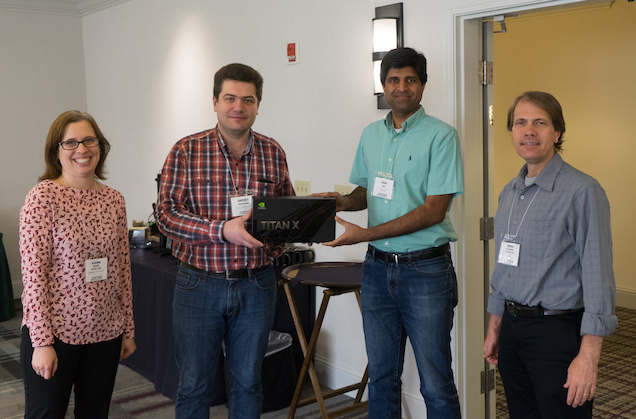 NVIDIA's Siva Hari presents Best Paper author Andrey Rodchenko with an NVIDIA GeForce Titan X GPU. Left to right: Suzanne Rivoire, Andrey Rodchenko, Siva Hari, Bronis de Supinski.
Important Dates
Paper Abstract submissions due: October 7, 2016 @ 12am AOE*
Full submissions due: October 14 2016
Rebuttal: January 19, 2017
Notification of acceptance: January 30, 2017
Early registration deadline: April 8 April 12, 2017
*anywhere on earth
For further information, please contact the General or Program Chair:
General Chair

Suzanne Rivoire, Sonoma State University

Program Chair

Bronis R. de Supinski, Lawrence Livermore National Laboratory
---
This website is maintained by the ISPASS-2017 Committee.
Contact Scott Walker if you have any questions or comments on this website.